Manually adding and editing transaction data
Data can be uploaded to CryptoSkat either via API, CSV or by manually entering the necessary information about a transaction.
It is quite simple to enter all the necessary data manually via our interface.
CryptoSkat supports manual input of data from all exchanges and wallets.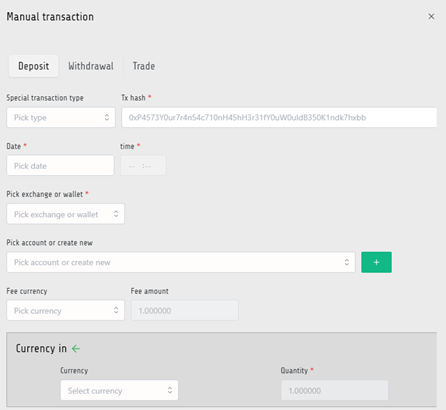 It is also easy to manually edit a transaction, whether it originates from an API or CSV upload or from previous manual input.
This happens via the same interface and the same fields.
Manual editing of transactions may be necessary to correct missing data for the transaction, e.g. if your exchange has sent inaccurate or incomplete data via the API (see the guide "API integration" and "Error messages").
CREATE FREE ACCOUNT – NO OBLIGATIONS OR TIME LIMITS
Whether you are a casual or pro trader and daytrade or mostly just hodl CryptoSkat helps you get an overview of your transactions.
START HERE